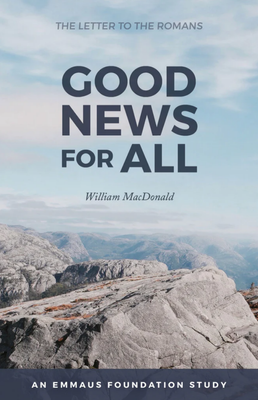 06. Good News for All (Letter to the Romans)
Emmaus Road
$9.00
In this concise study of Paul's letter to the church in Rome, we will learn step by step that the gospel is "the power of God to salvation for everyone who believes." Paul proclaims God's plan to provide deliverance for sinful man from the penalty, power, and eventual presence of sin through Christ's sacrificial death. We learn how to respond to God's grace and mercy in our daily lives, and we gain insights into God's future plan for His earthly people, Israel.
Luther described Romans as "The Purest Gospel." This course serves as an excellent introduction to it.
Good News for All can be used as a stand alone course or as part of the 12 part Emmaus Road Course Series.
Part 6 - Emmaus Road Course Series
These straight-forward studies in the Bible, doctrine, and the early Christian life provide a good basic foundation of the faith.
This 12-course curriculum will guide you through the Scriptures as you deepen your knowledge of God, and consequently follow Him better by keeping His Word.
75 pages.
SKU: 10000-88